Boom Blush
Regular price
$1,848.00 USD
Regular price
Sale price
$1,848.00 USD
Unit price
per
Sale
Sold out
See our real brides on Instagram for the vibes!
Discover 'Danielle'—the latest two-piece bridal sensation crafted for the rebel at heart, and the romantic soul who cherishes uniqueness above all. This ensemble is the epitome of bridal innovation, celebrating the exclusive touch that only bespoke artistry can provide.
Danielle is a love letter to luxurious comfort and timeless elegance. Fashioned from the finest silk, it promises not just a moment of splendor but a future of versatility. The gown's beauty transcends the wedding day; imagine the top adding a touch of glamour to your favorite jeans or the skirt paired with a vibrant top for a dash of color.
The design is as thoughtful as it is stunning. The top drapes gracefully off the shoulders, its form secured by invisible silicone straps that promise both support and a seamless look. The skirt is a testament to our dedication to fit and flattery, meticulously tested on a variety of body types to ensure a sublime silhouette.
Each piece is meticulously crafted in our atelier, ensuring a personal touch for each bride. For those who desire a custom fit, the skirt can be tailored to sit on the waist—simply share your preference after placing your order.
Share
View full details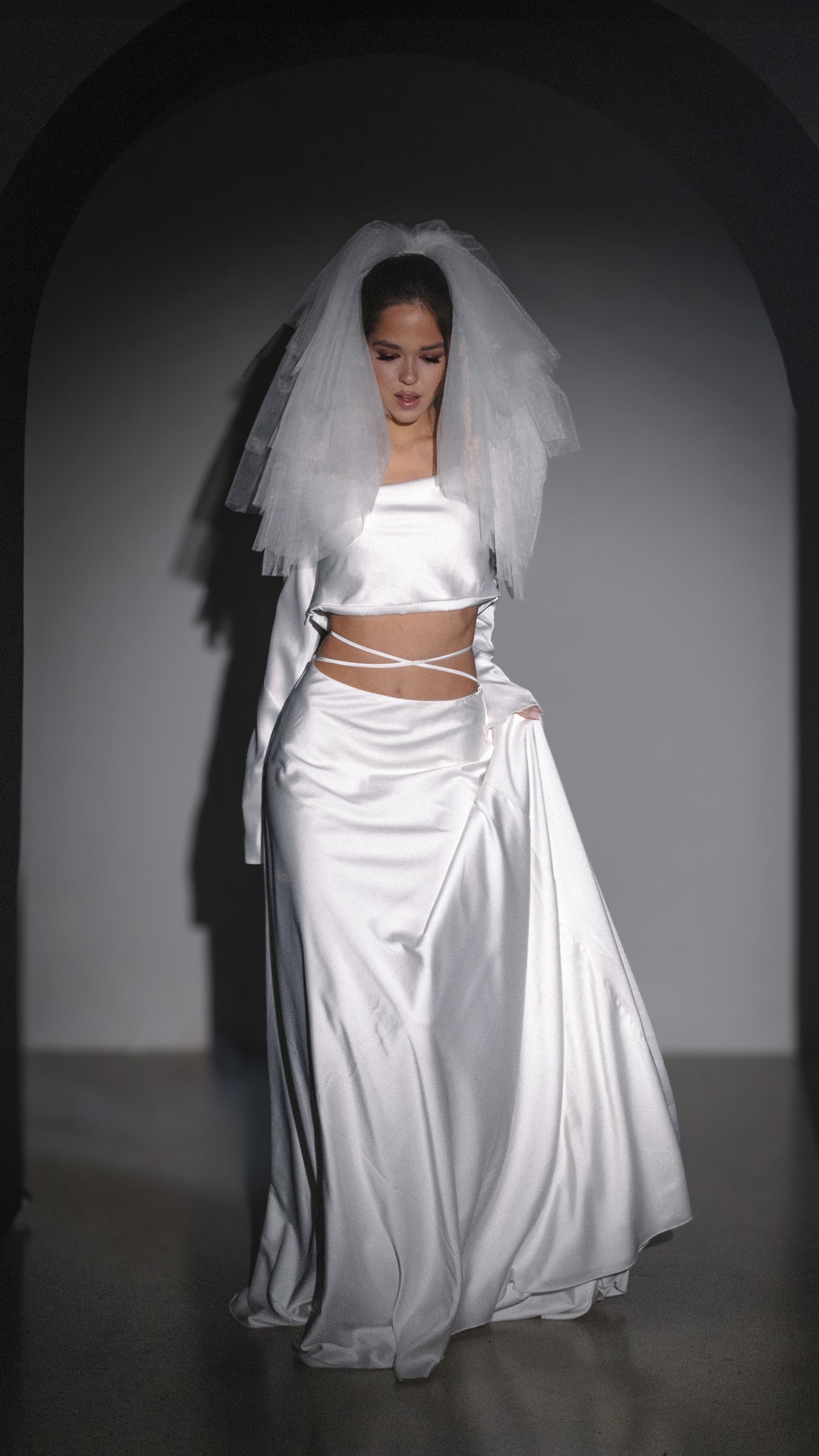 Bridal Q&A
How much time do I need before the dress is shipped?

We suggest purchasing your dress at least 6-8 months before your wedding day. This timeframe allows us to secure your fabrics, reserve your production slot, and deliver your dress well in advance of your wedding date. Ordering early reduces stress and ensures availability. We can get very busy during wedding season, and some gowns may become temporarily out of stock and we don't want to dissapoint you.
What should I do if I'm losing or gaining weight before the wedding?

If you're on a weight loss or gain journey, you can send us your updated measurements two months before your dress ships. Notify your stylist after securing your dress, and we'll ensure your dress matches your current size before shipping. Our dresses are designed with flexibility in mind and can accommodate up to two sizes. They can also be easily altered by your local seamstress right before the wedding in case your body changes.
When should I provide my measurements?

After you place your order, we'll send you a measurement guide and instructions. We recommend having your measurements taken professionally, preferably in centimeters. Since we handcraft each gown in our studio and don't rely on standard sizing, we tailor your dress to your unique measurements to ensure a perfect fit.
Do you offer plus-size options?

Yes, we absolutely do! Our plus-size gowns come with additional customizations to ensure a comfortable and flattering fit. We make sure our dresses can cover a bra strap if needed, so you can wear your preferred undergarments with confidence.
I am not sure if the dress silhouette fits me.

Our studio handcrafts each gown, allowing us to make adjustments to dress elements that can harmonize your overall look. Our experienced seamstresses and pattern makers, with a collective 100 years of bridal experience, can provide suggestions based on various body types. We are able to adjust your body length (which you won't normally be able to request in a regular bridal store) and change the volume of the skirt if you feel like you need less or more to make your body look the best.
Can you handle last-minute weddings with rush orders?

We understand that sometimes weddings happen sooner than expected. Depending on fabric availability and production time slots, we may be able to accommodate rush orders. Please get in touch with us before placing your order if your wedding is less than 3 months away. Our typical rush order fee is $250.
Can I request customizations for my dress?

Absolutely! We're thrilled to accommodate custom orders. Some customizations, like neckline adjustments and higher backs, come at no extra cost. If you have specific changes or a complete dress redesign in mind, please reach out to our stylist for a personalized estimate.
Are orders refundable?

Stock orders are refundable, while custom orders, which are tailored to your measurements, are non-refundable. We conduct rigorous quality control to ensure each gown matches your measurements and meets our high standards. According to NZ consumer law, we replace any damaged or faulty items. If you have fit concerns, consider scheduling a video call to assess how the gown fits your body type. Alterations are possible for all our gowns. Our happy brides - is the proof that buying a wedding dress online is not as scary as it looks at the beginning.
I want a veil, but I'm not sure which one will match my dress.

Let us know if you'd like a veil to complement your gown. Matching the veil shade to your dress is crucial. We'll make sure to use tulle in the same tone as your gown to ensure a seamless and coordinated look.